DEFINITION
No matter, if your'e technical or personal: Networks are a key elementin today's, day-to-day working life. For instance, a high-capacity or high throughput network is critical to a companies competitiveness. Your  personal network is also critical to enable you to complete your daily work, fast and efficiently. The expert network is critical for managers and network engineers to reach their targets. Even, the 'networked knowledge' is an idiom you hear more and more often …
PORTFOLIO
Stefan Klotzbücher Network Performance Academy offers solutions like Seminars and In-house Training, to increase the performance of your network. We will support you to keep you network performing and available – with personal know-how by our network of experts.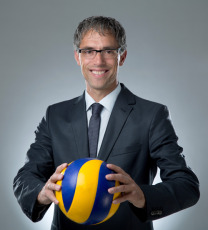 Stefan Klotzbücher
Owner and Network with passion
---
VITA
Whether you're a professional or private individual: As certified trainer of  AirMagnet Academy and passionate volleyball player, the owner Stefan Klotzbücher is a networker with passion. Afterstudying  for a diploma in technical Information Science. And a  BA (Bachelor) in the  techniques  of IT networks in 1993. Stefan has focused on consulting, sales and training of analysis systems for networks, troubleshooting tools, network test and measurement equipment. Stefan has worked with a number of vendors  including Helwlett Packard (Agilent), Wandel & Goldermann (JDSU, Viavi) and Micortest, gathering practical experience and valuable know-how.
As partner and former employee of Fluke Networks, Stefan Klotzbücher is a established expert in this market, in regards   to product consulting, knowledge transfer and training .Whether as a speaker at events like Com Consult or LanLine Forum, or as a writer of articles for the media: His main interest  and passion is to transfer his knowledge to his customers.
REFERENCES
The Seminars and Inhouse Workshops of Stefan Klotzbücher Network Performance Academy enabling you to better understand, use more efficiently products like Optiview, Onetouch, Airmagnet, OptifiberPro, Trueview oder DTX-1800/ DSX-5000.
Customers from a number of different industries and regions already take advantage from and profit this training, i.e: : Robert Bosch, ZF Lenksysteme, Spie, Audi, Daimler, Heldele/Zielbauer, Atel (Alpiq), Etavis, A1 Telekom, IZLBW, Stadt Friedrichshafen, Stadt Böblingen, Grosskraftwerk Mannheim, DFS, BT, Vereinte Nationen (Genf), Hochschule Harz, UPS,…